Located approximately 10 miles south of the Oregon/ California Randolph Collier Rest Area is one of the prettiest rest areas you will find as you travel throughout the United States.
Within the rest area sits the Collier Interpretive and Information Center (CIIC) which was established by the Siskiyou Klamath Interpretive Foundation. It was because of this groups vision that the Collier Interpretive & Information Center was built. The center is operated by our wonderful volunteer staff, seven days a week 365 days a year.
As you travel the I-5 Corridor please stop in at the center to check out all the information available for travelers, rest and learn about the local, regional and statewide amenities.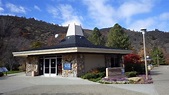 "Port of Entry"
Located on the banks of the scenic Klamath River just south of the Oregon border in California and immediately accessable to/from I-5, the center is the "Port of Entry" for travelers into the Greater Northwest , as well as California.  
I-5 is the major artery connecting Canada, Washington, Oregon, California and Mexico.
Contact Information:
Director – Grace Bennett
PO Box 702
Yreka, CA 96097
Phone : 530-842-4037